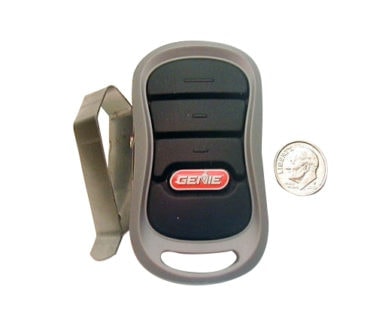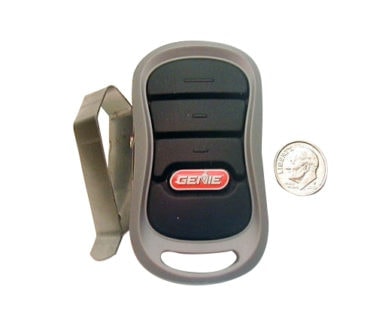 Genie Intellicode 3-button remote
G3T-BX
---
These are the 3-button remotes Genie uses for their newest line of garage door openers.  They send out both a 390Mhz and 315Mhz frequency.  The newer radio controls by Genie receive both frequencies for improved response for those areas with possible interference.
Note: The older systems, 1996 to 2010, use strictly 390 frequency and for better distance we recommend the GITR-3 remote for these systems .
---
Additional Information:
The following instructions only apply to those remotes sold in the years 2011and 2012.  The units manufactured since 2013 do not change frequencies by color light emitted, but rather alternate between both frequencies as the button is pressed.
This is a 3 button remote, which can be used to operate up to 3 garage doors using IntelliCode radio controls.  This remote is defaulted to operate the new IntelliCode 2 Genie garage door openers, but you can also program individual buttons to operate other IntelliCode 1 (pre 2011) models of Genie garage door openers made from 1998 to present.  To change a button to operate a pre 2011 IntelliCode opener, the default IntelliCode 2 setting must be changed to IntelliCode 1.  An LED light on the remote displays which mode the remote button is in:
Red = IntelliCode 1 / Green = IntelliCode 2
To set one of the 3 buttons to be IntelliCode 1 (red), follow the instructions below:
Select a button on the remote that has not been programmed.
Press and hold that button for 10 seconds.  Both Red and Green LEDs come on and stay on.
Press the same button twice to toggle IntelliCode selection from IntelliCode 2 to IntelliCode 1.
Press the same button again to confirm toggle.  the LED should be Red.  The IntelliCode selection for this button is set to IntelliCode 1.
You are now ready to program the remote to your garage door.  Follow accompanying instructions for "Programming to IntelliCode 1 Genie garage door opener," or see below instructions:
Programming Instructions: Gently press the Receiver Learn Code button on the power head receiver of your Genie garage door opener (motor head on ceiling in garage). This small, black, unmarked button is located behind the light lens at the motor head and is nearest the floppy 6 inch antenna wire that protrudes from the motor head. When pressed, a radio signal indicator light will start blinking red for 30 seconds. After pressing the Learn Code Button, press your transmitter button twice for your system to grab the frequency and code it in. (Keep the transmitter you're tuning at least 2 feet away from the power head while tuning.) Press the transmitter button once more to test the system and start your door moving.
Compatibility Questions?
Often times manufacturers have multiple part numbers for the same product. To eliminate some of the confusion, see the list below to confirm that this product will work for you.
This product replaces these parts:
ACSCTG Type 1
ACSCTG Type 2
ACSCTG Type 3
G2T-2
G2T-3
G3T-R
GIC90-1
GIC90-2
GIC90-3
GICT390-1
GICTD-1
GIFT390-1
GIT-1
GIT-2
GIT-3
GIT390-4
GMIC-3BL
GMIC90-3
OCDT G2T-1
TBSTG
You may also find these products useful: