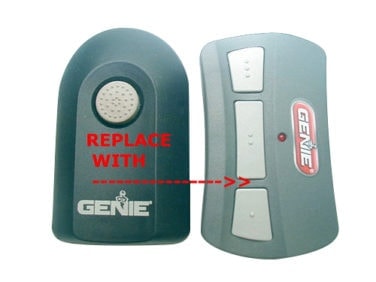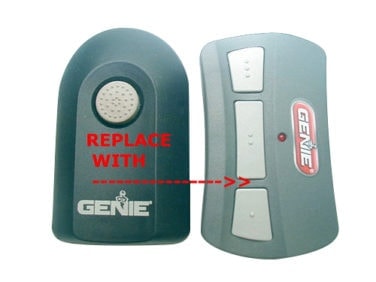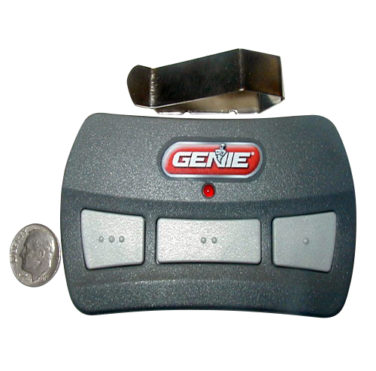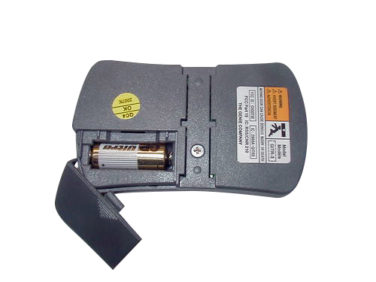 Genie ACSCTG Type 1/ G2T
Genie GITR3
---
ON SPECIAL- REGULAR PRICE $29.95
We recommend this remote over all the tombstone shaped, ACSCTG, remotes Genie is NO LONGER making.  Genie redesigned the tombstone shaped remotes, TBSTCG, to send out 2 different frequencies simultaniously and changed the battery to a wafer 3V battery.  As a result, we were seeing a high failure rate on the latest tombstone remotes.  Genie has stopped production on these remotes and is using the new GITR-3 remote as its replacement.
The new GITR-3 remote sends a 390 frequency, used on all Genie Intellicode systems, and was the exclusive frequency used by Genie prior to 2012.  It is the best remote for distance by Genie for those Intellicode units made prior to 2012.  The GITR-3 comes with a 12 volt cylindrical battery and visor clip.  We highly recommend these remotes to replace your old Genie Intellicode remote.  Some of the opener models using this remote are PRO99, CM9900, ISD9900, IDS1000, QuietLift 4560, H8000, PRO95, CM8600, 2060L, 3060L, 1024, 2024, 1022, 2022, 1042, 2042, GPS700IC, GPS1200IC, PMX500IC, PMX300IC, PCG400, PCG450, PCG500ML, PCG600, PCG650, PCG700ML, GCG350L, GCG350ML, H2000, 1020L, 2020L.  See note in ADDITIONAL INFORMATION, below.
---
Additional Information:
Note: 
Only the far right of the three buttons (1 dot button)
will operate those older Genie Intellicode units built from 1995 to 1998.  In this special case this remote can only be used as a 1 button remote.  If a multi-button remote is needed for units made between 1995 and 1997, we recommend the
GM3T-BX
.
This replaces the old ACSCTG Types 1, 2 and 3 as shown below
(Type 2 and 3 refer to 2 and 3 button remotes). Many units with external receivers will show the receiver model as ACSR3G.  Many systems using external receivers will have a model number on the receiver of ACSR3G.
Compatibility Questions?
Often times manufacturers have multiple part numbers for the same product. To eliminate some of the confusion, see the list below to confirm that this product will work for you.
This product replaces these parts:
ACSCTG
ACSCTG Type 1
ACSCTG Type 2
ACSCTG Type 3
B8QACSCT
G2T-1
G2T-2
G2T-3
GIC90-1
GIC90-1
GIC90-2
GIC90-3. GMIC-2
GICTD
GICTD-1
GICTD-3
GIT-1
GIT-2
GIT-3
GMIC-2
GMIC-3BL
GMIC90-3
OCDT
TBSTG Type 1
TBSTG Type 2
TBSTG Type 3
You may also find these products useful: