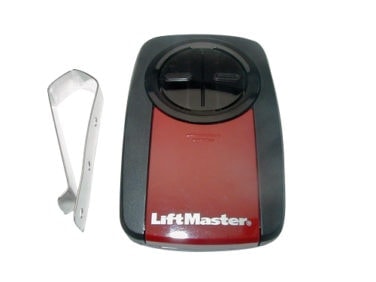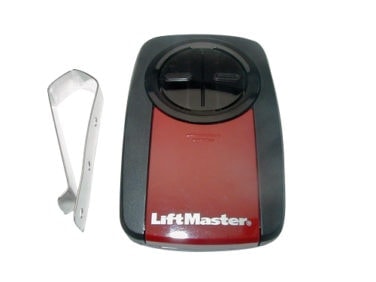 Universal Remote
375UT
---
This Universal Remote works for a variety of Genie, Linear, Multicode, Liftmaster/Chamberlain, Stanley, Wayne-Dalton and Moore-O-Matic garage door openers. It can be programmed to produce signals in many frequencies. For homeowners who want flexibility or don't want to have to determine compatibility for their particular garage door opener, this remote will most likely work if you have an opener from one of the manufacturers listed above.
Need a remote that will work for two doors from different manufacturers simultaneously? Grab this Universal Remote and see how easily it will interface with both systems. You can program one button to work with Genie while having the other work with a Liftmaster system. The remote is completely flexible in this regard, allowing you to set up any combination of two doors that you need.
It comes with a wafer (coin cell) battery and visor clip for your vehicle. For more on compatibility, make sure to check out the additional information section below!
Need help ordering?
Give us a call at 1-800-711-8410
---
Additional Information:

Compatibilty Chart
Chamberlain, Lift-Master, Sears Craftsman:

390 MHz Rolling Code, 315 MHz Rolling Code, 390 MHz Billion Code, 390 MHz DIP switches ( 7, 8 and 9 position).

Genie

390 MHz Rolling Code (Intellicode), 315MHz Rolling Code (Intellicode), 390 MHz DIP Switch ( 9 and 12 position)

Linear

300 MHz MultiCode

Linear

318 MHz MegaCode

Moore

-O-Matic 310 MHz DIP Switch ( 8 position)

Stanley

310 MHz Rolling Code ( SecureCode)

Stanley

310 MHz DIP Switch ( 10 position)

Wayne-Dalton
Note: Genie remotes with internal dip switch settings, that were sold only in Canada, had a different frequency than 390Mhz.  This universal remote is only compatible with those Genie remotes having a 390 frequency.
STEPS FOR DIP SWITCH REMOTES:
Set dip switches to match your garage door opener's switch settings.
Press remotes program button until the remotes LED lights.
Select one of the 2 buttons on the remote and press that button #_____ of times, until door activates.  Use the listing below as a guide to the number of times to press the remote button:
13 times for Genie 12 position, 17 times for Genie 9 position, 17 or 18 times for Linear 9 position, 14 or 16 times for Multicode 10 position, 16 times for Stanley 10 position.
stop pressing remote once door is activated and turn off the remotes program button.
test remote.
Compatibility Questions?
Often times manufacturers have multiple part numbers for the same product. To eliminate some of the confusion, see the list below to confirm that this product will work for you.
This product replaces these parts:
AT85
AT85A
AT90
AT95
AT95 GT90
AT95P
BLUE MAX
CM7500
GT90-1
GT90-1
GT90-3
GT90-3
GT912
You may also find these products useful: