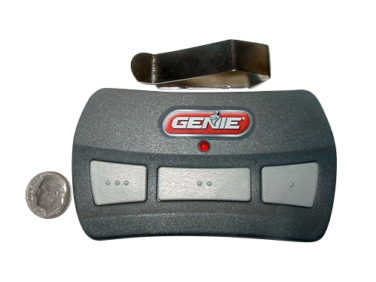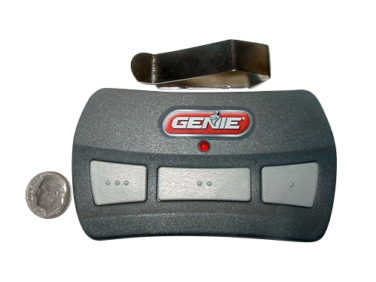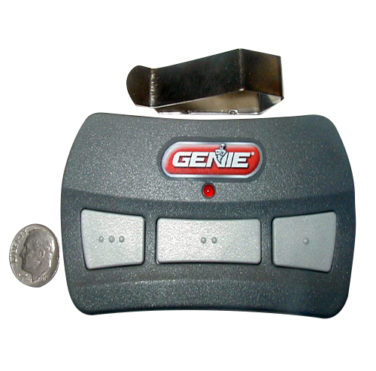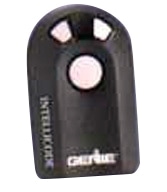 Genie GITR-3 Intellicode 3-Bttn
GITR-3
---
ON SPECIAL- REGULAR PRICE $29.95
This Genie transmitter is Genie's replacement for the ACSCTG, tombstone shaped remotes. This unit uses Genie's Intellicode system, which relies on "rolling code" technology to make your garage door more secure and less susceptible to hackers.
We highly recommend using this remote control as a replacement for Genie's older tombstone-shaped remotes, which are no longer made.
The GITR-3 sends a 390 mhz frequency and comes with a 12 volt cylindrical battery, and a visor clip for your car. If you have questions about compatibility, make sure to check out the additional information section posted below, and if you have any questions, don't hesitate to give us a call today at (800) 711-8410!
---
Additional Information:
Note:  Only the far right of the three buttons (1 dot button) will operate those older Genie Intellicode units built from 1995 to 1998, mostly recognized as ACSGT.  In this special case the remotes can only be used as 1 button remotes.  If in need of a multi-button Genie Intellicode remote for units built before 1998, use the Genie Master Remote, GM3T-BX.
This replaces the old ACSCTG Types 1, 2 and 3.  The ACSCTG Type 1 is shown below.  Type 2 and 3 refer to 2 and 3 button remotes.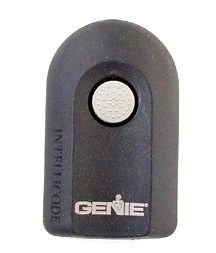 Compatibility Questions?
Often times manufacturers have multiple part numbers for the same product. To eliminate some of the confusion, see the list below to confirm that this product will work for you.
This product replaces these parts:
ACSCTG Type 1
ACSCTG Type 2
ACSCTG Type 3
ACSGT Type 1
G2T-1
G2T-2
G2T-3
GIC90-1
GIC90-1
GIC90-2
GIC90-3. GMIC-2
GICT390-1
GICT390-2
GICT390-4
GICTD390-1
GICTD390-3
GIFT390-1 GITD-1
GIT-1
GIT-2
GIT-3
GIT390-4
GITD-3
GMIC-2
GMIC-3BL
GMIC90-3
OCDT-1
OCDT-2
OCDT-3
OCTD-3M
TBSTG Type 1
TBSTG Type 2
TBSTG Type 3
You may also find these products useful: